Tanúsítványok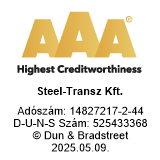 Contacts
Click on the map for zooming or route planning!
Steel-Transz Kft. 2371 Dabas, Kandó Kálmán utca 4.
(In the industrial park next to the Dabas roundabout)
Depot: 2371 Dabas, Szent János út 1.

Our depot has an excellent geographical location: it is located in the industrial park of Dabas besides highroad nr. 5, just 36.5 km-s away from the capital, in the center of the country. This favorable location allowed us to build a broad trade network throughout the country since even the furthest point of Hungary can be reached within 3 hours.
Call us on Skype:
Or request a call back: